Air Purifiers → ideal AP100 Med Edition Air Purifier with WiFi and App
ideal AP100 Med Edition Air Purifier with WiFi and App
The professional air cleaner for hygienically pure air – in rooms of a size up to 1000 square feet.* High-performance filter system, LCD touch screen, WLAN connection and the corresponding app complete this machine making it the perfect source for clean air.
Free Shipping   (restrictions apply)
Free Shipping Restrictions
We strive to get orders out as soon as possible. The majority of our orders are processed and shipped within 24-48 hours. However, some items do take longer to process and ship. We do welcome shoppers to contact us to check stock and lead times. We drop ship products direct from their manufacturer. In many cases, the product will ship directly from the manufacturer to you. In some cases, we may have the product shipped to our warehouse before shipping it to you. Any expedited shipping (3-day, 2-day, overnight) may not affect order processing time so please make allowance before placing orders.

We use UPS as our primary delivery service, however other carriers (i.e., FedEx, USPS, many common carriers) may be requested. Though we strive to honor your requests we reserve the right to change the shipping carrier if needed.
Free Shipping is offered on some of our products. Please note we reserve the right to terminate, modify or revoke the terms of this offer. Free Shipping only covers ground service and does not include Saturday Delivery, Lift Gate, or Inside Delivery. Free Shipping is only offered to orders going to the 48 contiguous United States and only applies to one shipping address per order.
Orders shipping to Alaska, Hawaii, or to an International destination are excluded from this offer

Free shipping for Truck/Freight shipments is to commercial locations, deliveries to residential locations could incur additional charges. Lift Gate service and inside delivery are not included. Additional charges will be added to invoice as required.

**Not all the items we carry can ship to APO/FPO addresses, please contact us first before placing order.**

Military Deliveries to an APO/FPO address can only be shipped through the US Postal Service. Their maximum weight limit is 70 lbs. There is an additional charge for this service as well as the US Post Office Shipping Charges from that local Post Office to the APO/FPO and will be billed to the customer. These additional charges can be avoided by providing us with a US Drop Point to ship to.
Free freight does not apply to supplies, parts and accessory orders. Orders placed online will have the proper shipping charges applied automatically. Please ask us for assistance with shipping quotes on these products.
International orders will be dealt with on a case by case basis. All non-US orders must be paid for via wire transfer (or credit card in some cases). Any products that offer free shipping are for shipment within the contiguous 48 United States. You may arrange shipping through a freight forwarder in the contiguous 48 states and we will ship your order to that location. Shipping charges beyond the contiguous 48 States will apply.
We ship Internationally via major carriers. We recommend contacting our customer service directly to obtain instructions and rate quotes for international orders. Our International shipping quotes are estimates and may vary at the time the order is placed. Additional costs such as Customs Duties, Brokerage Fees, Storage Fees, Import Tax, etc. may apply and are not the responsibility of Stapler Warehouse.
Our experience has shown that certain items have a tendency to get damaged in shipping. To insure a safe delivery, we require those items to be shipped on a pallet. An additional shipping charge (pallet charge) is listed on the web under the item if it's applicable. Some customers do not wish to pay this fee. To accommodate them, please submit a signed request absolving StaplerWarehouse from any and all liability regarding shipping. They must also pre-pay their order in full by wire transfer. Then and only then, will we ship their item any way they request.
Appropriate shipping charges will be added to each order. Shipping charges may include a surcharge. All orders over 150 lbs. will be quoted and shipped on the least expensive common carrier (truck) that is available unless requested otherwise.
Many items cannot ship by UPS, FedEx, etc. We have attempted to identify these products and have posted notices on the particular product's web page. Therefore, unless specifically requested, we will ship the best way (i.e., the least expensive common carrier for the value) that we can find.

Inside Delivery charges are additional costs for bringing the machine from the delivery truck to the location inside the facility where you are placing the machine, and in some cases includes removing a shipping pallet.

Lift Gate Delivery refers to a delivery truck fitted with a lift attached to the body of the truck which is used for moving the item from the cargo area of the truck down to street level when there is no loading dock available. The item will be left at the location next to the lift gate of the truck.

If you require an Inside Delivery or Lift Gate Delivery please contact a sales representative who can provide you with a quote.

Truck shipments are to commercial locations only. Deliveries to residential locations could incur additional charges. These charges will be added to customer invoices as required.
DO NOT sign the delivery receipt until you have inspected the shipment for any physical damage. Packages leave our warehouse in good condition. If you sign for the packages without properly noting damages, we can not accept responsibility for the goods. Do not limit your ability to collect damage claims. Kindly refuse shipment or make exceptions such as: "Subject to Inspection." This MUST be noted on driver's paperwork.
ideal AP100 Med Edition Air Purifier with WiFi and App
The iDeal AP100 is a Professional air cleaner with individually replaceable high-quality filter elements. The 7-level cleaning system filters pollutants such as fine dust, pollen and acarid allergens, pathogens such as viruses, bacteria, and mold spores, cigarette smoke, exhaust fumes, chemical vapors and odors from the air**.

Level 1: Fine prefilter - filters particles such as dust, hairs, pollen, lint.
Level 2: CleanCel® equipment - inhibits the growth of microbes.
Level 3: PM2.5 filter - filters ultra-fine air pollutants of a size of 2.5 µm (micrometer).
Level 4: Antimicrobial coating "MedShield" - removes 99.9% pathogen viruses, bacteria, and mold spores from the air.
Level 5: High performance activated carbon filter - removes various odors and harmful gases such as tobacco smoke, food odors, acetic acid, disinfectants, ammonia, formaldehyde, toluol, VOCs, and others.
Level 6: Optionally selectable PlasmaWave® system – actively supports the removal of bacteria, viruses, mold spores and ultra fine particles from the indoor air.
Level 7: True HEPA Filter – filters 99.97% of the ultra-fine particles of 0.3µm such as fine dust, dental dust, and sooty particles. The antimicrobial CleanCel® equipment of the device's interior inhibits the growth of microbes.
The AP100 has 4 function modes such as Auto/manual/sleep/turbo. In AutoMode, continually monitors the air quality with intelligent sensor technology (sensors for fine dust, gas, odors and brightness) and automatically controls the power. However, manual operation and adjustment is possible. The air cleaner can be controlled intuitively using a 4-inch LCD touch screen for timer function, night function, displaying individual filter conditions, weather data and air quality data. Operational guidance in three languages. Inclusion into a WLAN is possible. Even more comprehensive operation and data is available from the device using the IDEAL air app (free in the App Store or with Google Play). Mobile thanks to castors.


IDEAL AP100 Specifications:
Power supply 120 V, 60 Hz
Fan speed 5 levels (manual /auto)
Noise levels (dB) 29 / 34 / 41 / 48 / 56
Room size (square feet) 1,000
Dimensions (D x W x H), inches: 16 9/10 x 16 9/10 x 39 3/4
Shipping weight, pounds: 67
PLASMAWAVE®
PlasmaWave produces positive and negative ions in an optimal ratio that form hydroxyles together with hydrogen from the humid air. These hydroxyles neutralize and destroy viruses such as influenza viruses, bacteria, chemical compounds, poisons and odors at the molecular level. PlasmaWave cleans indoor air in the same manner as nature cleans the air. PlasmaWave is certified as being free of ozone.

CLEANCEL®
The plastic material of the air routing parts and the pre-filter are equipped with an additive based on silver ion technology. This CleanCel technology inhibits the growth of bacteria, fungi and acarids. Furthermore, bacterial contamination with Escherichia coli, Staphylococcus aureus and Salmonella enteridis is inhibited.

MEDSHIELD
Antibacterial "MedShield" coating of the PM2,5 filter for removing 99.9% of the pathogen viruses, bacteria and mold spores from the air.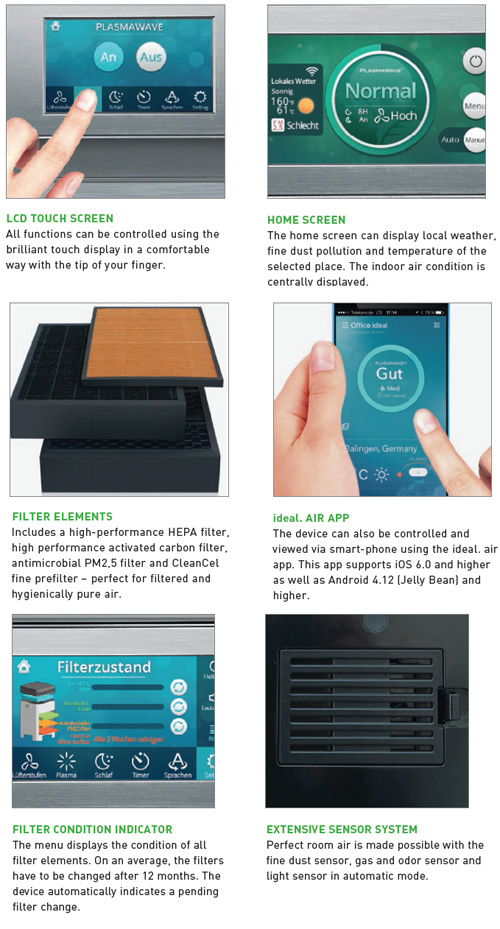 Customer Reviews





(0.00)

stars out of 5
Related Products
1 Total Related Products
Combine Your Purchase With