MBM iBooklet Tabletop Booklet Maker
Free Shipping   (restrictions apply)
Free Shipping Restrictions
We strive to get orders out as soon as possible. The majority of our orders are processed and shipped within 24-48 hours. However, some items do take longer to process and ship. We do welcome shoppers to contact us to check stock and lead times. We drop ship products direct from their manufacturer. In many cases, the product will ship directly from the manufacturer to you. In some cases, we may have the product shipped to our warehouse before shipping it to you. Any expedited shipping (3-day, 2-day, overnight) may not affect order processing time so please make allowance before placing orders.

We use UPS as our primary delivery service, however other carriers (i.e., FedEx, USPS, many common carriers) may be requested. Though we strive to honor your requests we reserve the right to change the shipping carrier if needed.
Free Shipping is offered on some of our products. Please note we reserve the right to terminate, modify or revoke the terms of this offer. Free Shipping only covers ground service and does not include Saturday Delivery, Lift Gate, or Inside Delivery. Free Shipping is only offered to orders going to the 48 contiguous United States and only applies to one shipping address per order.
Orders shipping to Alaska, Hawaii, or to an International destination are excluded from this offer

Free shipping for Truck/Freight shipments is to commercial locations, deliveries to residential locations could incur additional charges. Lift Gate service and inside delivery are not included. Additional charges will be added to invoice as required.

**Not all the items we carry can ship to APO/FPO addresses, please contact us first before placing order.**

Military Deliveries to an APO/FPO address can only be shipped through the US Postal Service. Their maximum weight limit is 70 lbs. There is an additional charge for this service as well as the US Post Office Shipping Charges from that local Post Office to the APO/FPO and will be billed to the customer. These additional charges can be avoided by providing us with a US Drop Point to ship to.
Free freight does not apply to supplies, parts and accessory orders. Orders placed online will have the proper shipping charges applied automatically. Please ask us for assistance with shipping quotes on these products.
International orders will be dealt with on a case by case basis. All non-US orders must be paid for via wire transfer (or credit card in some cases). Any products that offer free shipping are for shipment within the contiguous 48 United States. You may arrange shipping through a freight forwarder in the contiguous 48 states and we will ship your order to that location. Shipping charges beyond the contiguous 48 States will apply.
We ship Internationally via major carriers. We recommend contacting our customer service directly to obtain instructions and rate quotes for international orders. Our International shipping quotes are estimates and may vary at the time the order is placed. Additional costs such as Customs Duties, Brokerage Fees, Storage Fees, Import Tax, etc. may apply and are not the responsibility of Stapler Warehouse.
Our experience has shown that certain items have a tendency to get damaged in shipping. To insure a safe delivery, we require those items to be shipped on a pallet. An additional shipping charge (pallet charge) is listed on the web under the item if it's applicable. Some customers do not wish to pay this fee. To accommodate them, please submit a signed request absolving StaplerWarehouse from any and all liability regarding shipping. They must also pre-pay their order in full by wire transfer. Then and only then, will we ship their item any way they request.
Appropriate shipping charges will be added to each order. Shipping charges may include a surcharge. All orders over 150 lbs. will be quoted and shipped on the least expensive common carrier (truck) that is available unless requested otherwise.
Many items cannot ship by UPS, FedEx, etc. We have attempted to identify these products and have posted notices on the particular product's web page. Therefore, unless specifically requested, we will ship the best way (i.e., the least expensive common carrier for the value) that we can find.

Inside Delivery charges are additional costs for bringing the machine from the delivery truck to the location inside the facility where you are placing the machine, and in some cases includes removing a shipping pallet.

Lift Gate Delivery refers to a delivery truck fitted with a lift attached to the body of the truck which is used for moving the item from the cargo area of the truck down to street level when there is no loading dock available. The item will be left at the location next to the lift gate of the truck.

If you require an Inside Delivery or Lift Gate Delivery please contact a sales representative who can provide you with a quote.

Truck shipments are to commercial locations only. Deliveries to residential locations could incur additional charges. These charges will be added to customer invoices as required.
DO NOT sign the delivery receipt until you have inspected the shipment for any physical damage. Packages leave our warehouse in good condition. If you sign for the packages without properly noting damages, we can not accept responsibility for the goods. Do not limit your ability to collect damage claims. Kindly refuse shipment or make exceptions such as: "Subject to Inspection." This MUST be noted on driver's paperwork.
MBM iBooklet Tabletop Booklet Maker
Specifications:
Speed 800 sets/hr*
Sheet capacity Up to 16*
Paper size 4.3" x 8.25" to 13" x 18.4"
Paper weight 16 to 80 lbs.*
Staple mode saddle, side, corner staple
*may vary due to variations in paper and power supply
Dimensions (D x W x H), inches: 19.6 x 19.6 x 15.7
Shipping weight: 55 lbs.
The MBM iBOOKLET has a built in LCD counter that clearly shows job progress and settings. In case of an error, the icon based control panel clearly indicates what has happened (such as a paper jam or an empty staple magazine) which makes it easy to diagnose and resolve issues.

This tabletop booklet-maker automatically adjusts stapling and folding position according to the selected paper size. It has standard paper size buttons such as letter, legal, ledger, etc. adding to the ease of use. If odd sized booklets are needed, custom paper length is programmable by pushing the FREE button, and the +/- buttons. The iBOOKLET has automatic mode and manual mode. In automatic mode, the sensor on the feeding section detects sheets fed and staples / folds automatically. In manual mode, it staples and folds sheets as soon as the START button is pushed. Count mode is selectable from addition and subtraction mode. After finishing a booklet, increase / decrease the number according to selected count mode.

3 modes can be easily switched: staple only / fold only / staple & fold. The iBOOKLET has a patent-pending stapling mechanism, which enables it to select ordinary clinch and flat clinch. Flat clincher makes booklets and documents beautifully finished and saves space. At 800 sets of booklets produced per hour, the iBOOKLET has the fastest production speed in its class.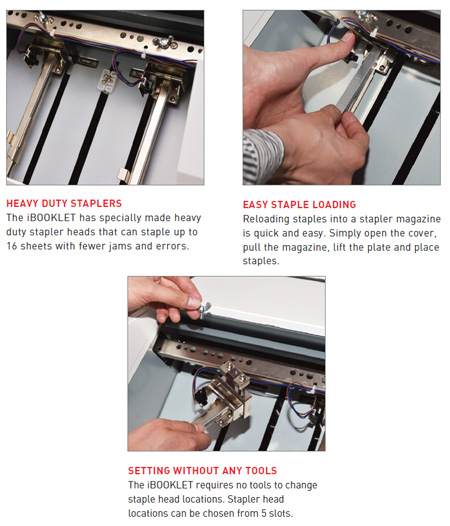 Customer Reviews





(0.00)

stars out of 5