Grab-N-Go Food Pouches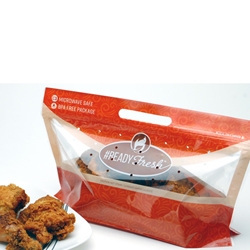 With #ReadyFresh packaging, food retailers can enjoy a consistent brand in their perimeter sections without the sizable investment required to establish a private label program. This product range has been designed to meet the needs of retailers for flexible and rigid packaging for many types of grab-n-go and bakery items. Consumers and retailers love the consistent branding, the convenient packaging, and sustainable options within the program.
Key Features:
Consistent branding for the retailer
CPP Material for outstanding performance
Convenient zipper closure
Handy die cut handle
Microwavable pouch for easy reheating
#ReadyFresh Grab-N-Go Pouches are specifically designed to help grow perimeter fresh food sales by providing a handy pouch that delivers fresh food and a consistent brand message without the expense and financial commitment that is involved for a dedicated store brand.