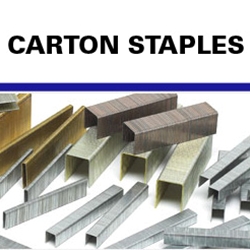 We offer a wide variety of heavy duty Carton Staples for boxing making and closing. Our offerings include C-Crown, A-Crown, SW7437 series staples in a number of leg lengths, to suit your tool and application.
Q: What is the difference between C and A-Crown Staples?
A: Both types uses heavy gauge flat wire. C-Crown staples have a 1 1/4 inch crown size while the A-Crown has a crown that measures 1 3/8 inch wide. There are no clear advantage between both. The C-Crown staples are more popular in North America while the A Crown is more common in South America and Europe. So deciding between either styles is a matter of preference or cost.
Q:What are coil staples?
A: Carton staples are made in either collated sticks / strips or into coils. Coil Staples contain either 1000 or 4000 staples per coil and are meant for use in high volume stapling applications. Stick staples are designed for staplers used in low or medium volume box closing applications.